You may have seen in the local news that the Environment Agency have four pumps running along the Foss for the last few days and wondered why.
Yorkshire Water reported the presence of both dead fish and others struggling to breath on the surface around Foss Islands Road, as well as in several other places. The cause was found to be a dangerously low level of dissolved oxygen in the water, most likely due to the carpet of duckweed. This is a natural phenomenon due to low flow rates and warm overcast weather reinforced by high nitrogen levels, which are not natural. Sunshine would help the situation as photosynthesis could then increase the oxygen levels, but the sun is only with us sporadically at the moment.
The EA are running the pumps to increase the dissolved oxygen levels, with a five-fold improvement achieved, to a level at which fish are able resume their normal activities. They will continue pumping for as long as needs be, and with no rain on the horizon to increase the flow of water, this might be for some while.
Many thanks to all everyone who reported issues to us. The EA is to be commended for their rapid response to what could have become a very serious issue.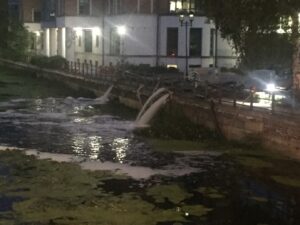 Pumps running Tuesday evening by Kings Pool. – Photo Roger Button.